Sunday, August 21, 2011 at 07:23PM
It's more than a little disturbing watching the events in Libya this evening. International journalists trapped inside a hotel after being abandoned by their armed guards. Random Rebel gunman yelling to the cameraman above him a few floors, that he wants no pictures! The poor British journalist trying to cover the story for CNN is obviously distraught and literally wiping sweat he makes as we watch. Quaddafi's son has been captured and with assurance for his safety; as Rebel forces have been told to honor all situations that warrant "Prisoner Of War". There are all kinds of rumors of Quaddafi himself being captured as well that are yet to be verified.
So while the excited CNN journalist shuffles her story in anticipation of this profound turn of events; I look at the roots of what may be the next new flower in the desert. During the Spring uprisings I likened all the new countries as new flowers busting thru their hard earth finally. As I type this....Rebels are taking over the streets of Tripoli. A strong momentum for growth if properly fertilized; or is the soil already too spoiled?
Four decades of a regime run by what's been called "gore propanda", fear, and mind control. Leaving one resident who states in anonymity, that "Libyans are warm people, but if you touch them they will turn on you and beat you to the ground". Years and years of control through violence. A rocky ground for something so young and fragile as freedom...and freedom won through violence.
As I pointed out in that previous post; the garden where these new wild flowers are trying to grow...is most likely full of snakes and predators as well. Will the ones who rise up as leaders be able to model a break from all old habits? Will they themselves be threatened by those more violent than they?
The fact that anything or anyone can grow in our present environment worldwide is noteworthy. A world beaten down even in the most longstanding governments, let alone floundering and waving in the wind types.
Just what is the role of NATO these days? Is this the new advance group to proliferate outcomes? And for whom?
Boundaries are changing in many places. If you were a "New World Order" afficionado; you could definitely make a case for the time honored practice of chaos designed for control. While all the while, someone makes a profit. Has the era of war replaced the Industrial Revolution? Will there soon be less jobs everywhere, except for military and warfare based industry...and of course the rebuilding folks make out well too. But do the ones they supposedly help to rebuild? And at what cost to the rest of us who silently fund this process by our expected submission?
Here's an article by Paul Craig Roberts at "The Centre For Researh On Globalization". He tells better than I could of what's going around in my head as well. A shocker in this article, is reference to eagerness to combat China next over some disputed islands. Thereby having China facing two wars, as we enlist India in NATO to occupy Pakistan. You need to read this stuff. It's another reminder why we just can't seem to get that damn Military budget down.
http://www.globalresearch.ca/index.php?context=va&aid=23394
So just checking in on my last night of unelected freedom from work. My ankle is sore but healing and with clearance I return to work tomorrow after exactly 3 months. A nightmare in itself that left me watching and listening even more than usual to current events. A state most don't have the luxury of with work routines and all other distractions. Not a good time to look away though, is what I would caution. Just following the money is enough. Thinking of that annoying song in the musical "Cabaret"...."Money Makes The World Go Round...The World Go Round".
Here's the closing quote from the article above:
"As General Smedley Butler told the jingoistic American population, to no avail, "war is a racket." As long as the American population remains proud that their relatives serve as cannon fodder for the military/security complex, war will remain a racket. "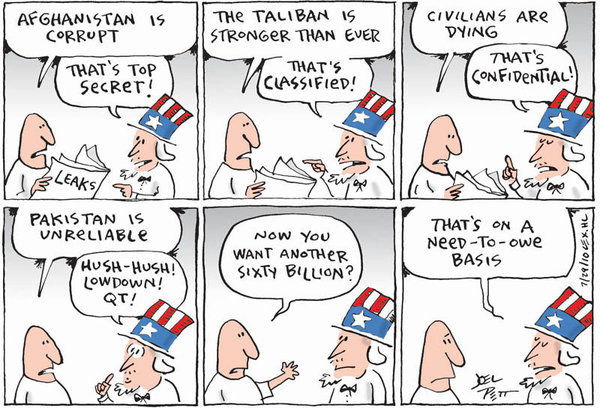 Cartoon courtesy of Joel Pett at "Political Irony"
http://politicalirony.com/2010/07/30/need-to-owe-basis/