Friday, January 7, 2011 at 07:26AM
Today I offer my personal choice, for a story of last year that should not be forgotten soon. A story about the most unique of characters and circumstances, that came together in a strong statement of the dedication and will of two very different women. One life committed to empowering individuals in the most positive ways, and one who would wish the sacrifice of lives in the name of terrorism and extremist religious beliefs. One who gave the ultimate sacrifice of her life without provocation, and one who encourages suicide in the name of her cause; but now will serve 86 years in prison. The irony of how their life's missions played out, is a story that has more depth than what has been reported, and for many reasons. It is my intention to give insight into their personalities and backgrounds, as well as the dynamics that caused the entwining of their fates for all time, and possibly a crucial turning point, in a war without an end in sight.
I remember on a nice Fall evening looking under the radar for the latest stories. The one seemingly getting the most hits internationally, was the story of a Scottish woman who had been kidnapped by terrorists. The woman was Linda Norgrove and because we share the same first name, I felt compelled to look closer. What I found, was a very intelligent and accomplished activist, who had a long list of degrees and credits for her 36 years. A woman most completely committed to using her knowledge of environmental planning, for the empowerment and elevation of the quality of life, for those who couldn't do it for themselves. After so many numbing years of war, we miss relevant information regarding the individuals involved, especially those who have been living the repercussions of war for over 30 years. The whole reason Linda Norgrove came to Afghanistan in the first place, has to do with errosion of irrigation resources due to the fallout of war. Even as the working population of Afghanistan is listed as 75% farmers/agriculture; their abilities and resources were so depleted, that the seduction of poppy production as an alternative, was easily causing further destruction for any real future for these farmers. If it is a surprise to anyone reading this, that heroin trafficking is the primary national product of Afghanistan; you only have to look at the numbers of increasing heroin addicts worldwide to make the real connection. Don't have a family member addicted to heroin yet? Your odds for this phenomena increase, if you know someone in the military serving in the Middle East, or you have a child being educated in one of the elite academic institutions in Boston. Both these target groups, represent the most coveted kind of victims, of those who proliferate this market and the eventual demise of despised religious enemies. Do not forget, that to those extremists, we are all potential targets of destruction in one way or another. The United Nations Office On Drugs And Crime, still estimates Afghanistan as representing 85% of opiate trafficking in the world. The brother of the leader of this country,who we helped be elected, is known as the most powerful drug lord in the world today. If you lived in Afghanistan would you believe the United States and their allies really had your best interests at heart? Read what the New York Times reported on his involvement also with the CIA. http://www.nytimes.com/2009/10/28/world/asia/28intel.html
Of course it would seem relevant, that someone dedicated to turning around not only the environmental infrastructure positively; but also the evil goals of the political infrastructure, as an inevitable target. That is, until you follow the story and uncover the other motives at play, that have been diminished for their volatile impact on future events.
This brings me to the second woman of interest in this story, Dr. Aafia Siddiqui. Another woman on a mission based on passionate beliefs; but in the name of the most destructive processes to achieve her goals. She warrants the title worst woman of 2010 for her endeavors past, present, and beyond what we can even imagine. This is also a most intelligent Pakistani woman, whose father was a neurosurgeon and mother was an Islamic teacher, social worker and onetime prominent member of the Pakistan parliament. She had a brother and sister in the United States and soon followed with her own educational pursuits, at the University of Houston and then to the prestigious Massachusetts Institute Of Technology. Her first academic award as a sophomore in college, was for a research proposal entitled, "The Islamization In Pakistan, And It's Effect On Women". I feel it necessary to look closer at this woman's past and where it led her, as the puzzle pieces may shed light on her drift to darkness. It's not that Linda Norgrove didn't have just as prolific past accomplishments; but it didn't lead her to want to destroy; but rather enhance the lives of those in her future. What was the turning point for the bright Pakistani woman with seemingly unlimited options and her own humanitarian ideals? While at MIT, she received a $1,200 City Days fellowship thru MIT, to clean up elementary playgrounds in Cambridge. She initially had a triple major in, biology, anthropology, and archaeology; but eventually graduated in 1995 with a B.S. in biology and later received a coveted doctorate from Harvard. She lived in the dorm, was considered somewhat religious but not unusually so, and described as nice, soft spoken, and not terribly assertive. Then she joined the (MSA) the Muslim Students Association. Journalist Deborah Scroggins surmises in her writings on Aafia Siddiqui, that this may have actually been her first introduction and seduction into the world of terrorism. Here's an exerpt about this time and possibly the most influential person in this process.
"At MIT, several of the MSA's most active members had fallen under the spell of Abdullah Azzam, a Muslim Brother who was Osama bin Laden's mentor.... [Azzam] had established the Al Kifah Refugee Center [Brooklyn, New York] to function as its worldwide recruiting post, propaganda office, and fund-raising center for the mujahideen fighting in Afghanistan... It would become the nucleus of the al-Qaeda organization"
During this time she solicited for donations to this group, which advocated violence and claimed responsibility for killing a prominent rabbi and was also tied to the 1993 World Trade Center bombing. Through the MSA she met several committed Islamists who publicly advocated Islamization and Jihad before 9/11. In her writings she quoted the Quran's warning for Muslims to not take Jews and Christians as friends. Hoping ultimately that more people would come to the religion of Allah, and ultimately for America to become a Muslim land. She also took a 12 hour pistol training course at the Braintree Rifle And Pistol Club, in Braintree Massachusetts. A quiet suburb which happens to be the neighbor of the one where I live. What's noteworthy at this junction, is that she also was married in an arranged ceremony to someone she had never seen, and in a ceremony conducted by telephone. Her husband eventually moved to Boston and worked as an anesthesiologist at Brigham And Women's hospital. One of three of the most prestigious facilities in the area, and right around the corner from the hospital where I work. This area known as the Longwood Medical area, includes Harvard Medical School and is known to have a very diverse population, not the least of which is Middle Eastern. An accepted best place for furthering ambitions academically and professionally, for people and their children from all over the world and it would seem a place made for terrorists dream as well. All the while, pursuing academic achievements and even teaching accolades to her credit. Keeping in line with her religious beliefs, she also founded the Institute of Islamic Research and Teaching, a non-profit organization. She attended a local mosque and stored copies of the Quran there for distribution. Another resource she developed in her mission to spread her religious philosophy, included establishing the Dawa Resource Center, a program that distributed Qurans and offered Islam-based advice to prisoners. It's not that I don't see this woman capable of these things on her own; but it does seem to suspiciously manipulated by the strong male dominant role models she chose also. This was obviously someone who believed in what she had seen and heard as a child of Pakistan, about all the horrible things Americans were capable of. Unfortunately I have known many people who grew up in the Middle East and had similar negative impressions based on more than just speculation. Watching an elder George Bush and his missions, followed by only the hope of more of the same by his son, did leave plenty of reason to not trust whatever we had to offer. What happened next would seem to be more fueled by her involvement with major extremists than community based. A United Nations report from 2004, lists her as one of 16 people who used aliases and purchased $19 million in blood diamonds from Monrovia, Liberia, immediately prior to September 11, 2001. Diamonds that were the perfect untraceable assets used to finance al-Queda operations. The rest of this story can be found in her extensive biography on Wikipedia; but the emphasis from this point is dynamically more militant and extreme. Her strong desire to leave this country after 9/11 and deflect any more accusations of support and money laundering are easily understood. Especially in the angry aftermath and obvious racial profiling that took place in this country, even if you were absolutely innocent.
I remember being looked at differently myself then, just for having dark hair and eyes. The Summer of 2001, my daughter and I flew to Santa Barbara for vacation. The day before we were set to return, there was an incident with possible terrorist implications at LAX in Los Angeles, just down the coast. When we arrived at the small Santa Barbara airport they were on high alert and suspicion, as if it was the day after 9/11 all over again. All though my daughter had very blonde hair, because I was dark and seen as ominous, we were put thru a most rigorous search and query of our identity and reason for our trip . I don't forget that feeling that moment and the look of terror on my daughter's face or the reason for it, and I was in every way an American. You can imagine what it was like for any true Middle Eastern people, those years post 9/11. There was just nowhere for most to anchor an anger that would not go away and still won't. We were indoctrinated immediately to target those we were told were our enemies, even as vague as it all seems now in retrospect. Everything we knew or thought we knew changed and all of a sudden the enemy was everywhere. Our government directed our shock, anger and sadness to meet their agenda. In this way, I can understand how Aafia's resentment for those who endangered all she believed, was also used to their advantage. Those who relish war, know that personal religious beliefs are the most volatile emotions to incite, and always have been.
So it would seem, that two very bright and potentially powerful women, who were on completely different life paths would have a small chance of being caught up in each other's lives. Except for the fact, that they represented two polar opposites, who happened to travel in the same region and both had plans for it's inhabitants. Neither of which ever counted on the impact the other would have on their lives, while doing what their hearts told them they must. A woman's passion for anything, is never to be under-estimated.
And so it was, that September 2010 brought about events in both their lives, that would link them forever. Aafia Siddiqui after many years of balancing a mainstream persona along with her under the radar achievements, left her first husband with children in tow and eventually married a man whose uncle just happened to be the alleged planner of the September 11 attacks. A stature and state I'm sure had many obligations for this Muslim woman, that I can only imagine. It must have seemed to her, a pinnacle in her life's work and her total commitment to it. With the capture of Khalid Sheikh Mohammed in 2003, now her uncle by marriage, came information allegedly obtained with torture by "waterboarding". As a result, there were many arrests and information that triggered an FBI "global wanted for questioning" for Siddqui in regards to the blood diamond purchase and money laundering. Even her best attempts at trying to keep her double life in tact now failed her. From 2003 to 2008 there is only speculation from many sources as to her dealings and whereabouts. Random reports in many disguises and many places are vague to say the least and live up to her aspirations of being a true terrorist for Islam. There are stories out there about events regarding her supposed kidnapping, rape and torture by CIA operatives. Another story that has little evidence in truth; but afforded her even more glory for her real or supposed torment in the name of her cause. Even the events surrounding her eventual capture are so filled with discrepancy, that they have those in her support who would believe that she is the victim. Of course, this was due to some course of action by her captors and their inept way of handling the whole affair, that leaves room for suspicion enough to heroize her even more. This woman they encountered now, was in no way the same "less than assertive" young student at MIT. This was a cunning and well schooled militant, who had successfully stayed alive and a step ahead of any authorities for 5 years. Leave it to say that it was a botched attempt to arrest her, that resulted in a weapon being discharged somehow at her. Wounding her long enough to be subdued and eventually transported to the U.S. The resulting lengthy trial and all it's drama is another story for inspection if you wish; but I wish to stay in my story of these two women and their connection. The end result of the trial, was a conviction for Siddiqui for all her crimes, to the tune of 86 years, spent in an infidel prison in the U.S. The result was the perfect martyrdom of one recognized by her loyalists as a hero to their cause. The same way the men who schooled and used her for their cause, they now recognized her immeasurable worth even and especially in her incarceration. One who deserved their every attempt to free her and argue to have her repatriated to the Pakistan she loved and loved her. The Pakistan government literally donated over $2 million to her defense. At once there were retaliations associated with the anger of their hero's plight and even more hatred for all those representing the U.S. and their allies. Murders and kidnappings associated with her supporters were more prolific than any of us on this side of the world were allowed to see. The less press and publicity for this cause the better, must have been the emphasis. Even though, to understand what is actually going on in the most volatile environments in the Middle East, is to also accept that there is always ongoing espionage information we may never know. All those things that as U.S. citizens, we are to let our military and government worry about. After all, they are the experts, right? Another assumption that would play out in this tale of two women in the most devastating way.
There are those who say that Linda Norgrove was responsible for putting herself in harm's way and that the result should have been expected. You can actually find these comments on a Facebook page meant to be a memorial to her good works. It's exactly this kind of callous and uneducated opinions about war and the people involved, that inspired me to write a more personal aspect to this story. It's too easy after being subjected to all kinds of wars for so long, to adopt a totally impersonal attitude about the whole thing. Seeing only what we're meant to see and accepting everything without question or simple caring, is what makes it so easy for it to just go on and on.
On September 26th, 2010, Linda Norgrove dressed in a burkah in a most self protective manner. On this day she chose to participate in a celebration that was a successful culmination of all her best hopes and dreams, for the farmers and all the people of Afghanistan. I personally believe it to be a testament to her helping all of us, to be part of a more positive process, than just succumbing to the defeat of war's destruction. Wherever there are wars, we should all be grateful for such compassion, so unselfishly aimed at making a peaceful statement. She wanted to believe she was surrounded by the good faith of those who appreciated her help; but I'm sure this extremely intelligent woman, also knew of those that wished the poppies to still be the only viable crop in Afghanistan. She knew she was a threat to those profiteers of this region and even the extremists, who might have more difficulty touting all "infidels" as bad. She was living by example. The most true way to practice your beliefs. What she didn't count on, was her attractiveness as a pawn, in the plan to rescue someone she might not have ever known about, or ever fathomed could be part of her life. She was happily testifying with her presence that day, that she felt her cause was that important, regardless of any danger. For all the Annie Lennox and Angelina Jolie good deeds abundant, this quiet woman who just wanted to make a real difference and lived accordingly, is and will always be more the example who deserves to have her history correct and her achievements mirrored. She lived to all her best potential as a human being and never asked for personal gain or tried to put anyone in harm's way for it.
If you know the rest of this story because you cared when it happened, then you may also know that she in fact was kidnapped by Taliban members. What most people including myself never really heard, was that It was a much more personally impassioned response than we were led to believe. All of it, was meant to be in protest of and possibly a negotiating tool, for the release and return of their beloved Aafia, who had also in their minds given her all for them.
The result was a botched attempt at negotiations, that escalated to a military response. Even with the admonition of locals who had volunteered to negotiate the way they felt was best and right under the circumstances, the U.S. military felt they knew best. The military response ended with a dire mistake of one grenade that never should have been thrown. Resulting in the death of the very hostage they were supposed to be rescuing and an obviously embarrassing and crucial mistake of judgement, that became the subject of investigation. At first the blame was put on her captors and the glory of the military was to be praised in their attempt to save her, as "one of their own", no matter the sad outcome. In reality, my gut tells me it was more about the enticement of capturing those she was with in such an obvious display of military maneuver. The family and loyal supporters of Linda and her life's work and the incessant blogging of her death for it's obvious sadness, did bring about the truth just recently. It was found, that an over anxious soldier assumed he was under attack, and assumed these adversaries were not smart enough to keep their captive close. (Or was he really ordered to do this, and will we ever really know?) In a panic moment, a random grenade was thrown, and ended the bright life of Linda Norgrove. Even more gravely, it put all the attempts by those trying to be a better example in war, back to the hands of those who would only want to see us as the enemy overall.
It would seem that even Aafia saw the irrelevance of this moment in her name and has pleaded for no more attempts to defend her cause. Even as the dark reality of her imprisonment may have dampened her extremist attitude in reflection, the ones who choose to see her as their martyr, are still keeping her plight alive. As recently as Christmas, a photo was released from Pakistan where there was a protest in her honor.
The tale of two women who impacted us all in the year of 2010 still goes on. One who's brightness lives on in her supporters and the foundation started by her family. The other imprisoned with the reflection of all her actions and who still empowers those that choose her for their martyr, with or without her support. The question that comes to mind for me, is what if these two had somehow found a way to combine all their passion, intelligence and mission into the same cause? It's undoubtedly a mute point; but with an attitude that I wish were somehow more prevalent these days. How do we find more ways to bring both sides of the issue to the table truly? This very topic was approached and supposedly adopted by the United Nations on International Women's Day in 2000. A recent re-assessment has shown with sadness, that as few as 23 countries out of 192, have responded with viable options. Read this: http://www.sgiquarterly.org/feature2011Jan-5.html
Women have always recognized their abilities and strengths in negotiating a positive agenda where wars and their aftermaths are concerned. After all, what mother wants her child to suffer the crimes inflicted in the name of war? I'm sure Linda's mother never expected to lose her child the most devastating way, anymore than Aafia's children expected to lose their mother to a life of imprisonment. Now we are watching militant Pakistani women encouraging more to heed the call to violence as the answer. Why were we not there to give them a voice, instead of the male counterparts who realized what a powerful force women really are? Do we really want women to think they have no options other than fighting wars? How many Aafias will we allow to be made by men who manipulate all the goodness of women, in the name of their precious wars? No matter where they are or what the cause? To lose the valuable tools women give to all humanity, because there is not a reasonable female perspective to overpower the men who still ultimately overpower us, is just sad and wrong. Let us never forget either, that it is men who start wars; but it is all the rest of us who pay, as long as we accept that we must be only dominated and used for their benefit.
In closing I give you my choice for The Best Woman Of 2010 Linda Norgrove
May our future include so many more women who will always listen to their heart and not follow the ideals of those that show no heart for anyone.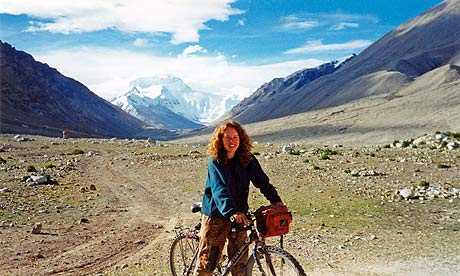 Here's a link to her foundation page
http://www.lindanorgrovefoundation.org/